Introducing Pages
In this topic, you will be provided an overview of the use of Pages in a Brightcove Beacon app. Pages contain the functionality and video content app users will see.
Types of pages
When you create or edit a page, the Page Type selection offers the following: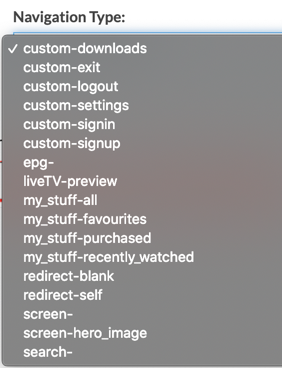 Page categories
The page types can be grouped into two categories. The categories and details for each follow:
Non-configurable

A page you choose to include in your app, or not.
The document Including Non-Configurable Pages provides further details, including how to add one of these types of pages to your app.
Examples of non-configurable pages are Settings and Sign Up, shown here:

>
Screen

A page that holds your video content, in carousels, lists, etc.
Highly configurable using blocks, layouts and playlists. Two examples are show here:
Page type definitions
The following table displays the page types, including a description and its use.
Page Type
Description
Add Blocks in the UI
(Yes/No)
Use
(Required/Recommended/Optional)
custom-downloads
Not supported
No
N/A
custom-exit
Provides functionality to quit an app.
No
Required on some platforms, mainly smart TV.
custom-logout
Provides functionality to logout of an app. After logout, the user is left on the landing page or makes the user an anonymous user.
No
Required if you have registered users, as would be the case for most mobile platforms.
custom-settings
Provides access to settings.
No
Highly recommended
custom-signin
Provides registered user login
No
Required for registered users; not needed if you allow anonymous browsing
custom-signup
Provides a way for users to register
No
Required if app uses registered users; not needed if you allow anonymous browsing
epg-
Electronic Program Guide (EPG) displays the program guide for live TV
No
Required is app uses live channels
liveTV-player
Plays live video and automatically will change the orientation to landscape.
No
If you do play live TV, it is recommended to use the liveTV-preview screen, as that presents a player to the user, then on click/tap will change the orientation to landscape and play the video.
liveTV-preview
Plays live video with player as part of a larger page, then on click/tap will play video in landscape orientation.
No
Recommended for use over liveTV-player
my_stuff-all
Provides a page with two tabs, one of which displays Recently Watched and the other tab displays Favorites. This would just be a blank page with a message saying you need to use Recently Watched and Favorites.
No
Optional
my_stuff-favourites
Contains the videos marked by the user as a favorite
No
Recommended
my_stuff-recently_watched
Contains the last 20 videos watched, chronologically listed.
No
Recommended
screen-
Displays the grouped videos in carousels or tabs. Used to organize the contents of your app.
Yes
Required
search-
Provides input screen with an input field where you can search the content, and then presented the results.
No
Highly recommended
Common page configuration settings
In Brightcove Beacon when you are creating a new page or editing an existing page, you will see the following tabs:

The Basic Data tab is where you choose your page type, as well as configure screen pages. The other tabs are the same for all page types. The Common Page Configuration Settings document details the needed information on the Textual Data, Non-Textual Data, Tags and Rights & Scheduling tabs.