In this topic, you will learn what related content is and where it is displayed.
Overview
When a movie is displayed in a Brightcove Beacon app, you will also see related content displayed along with the video.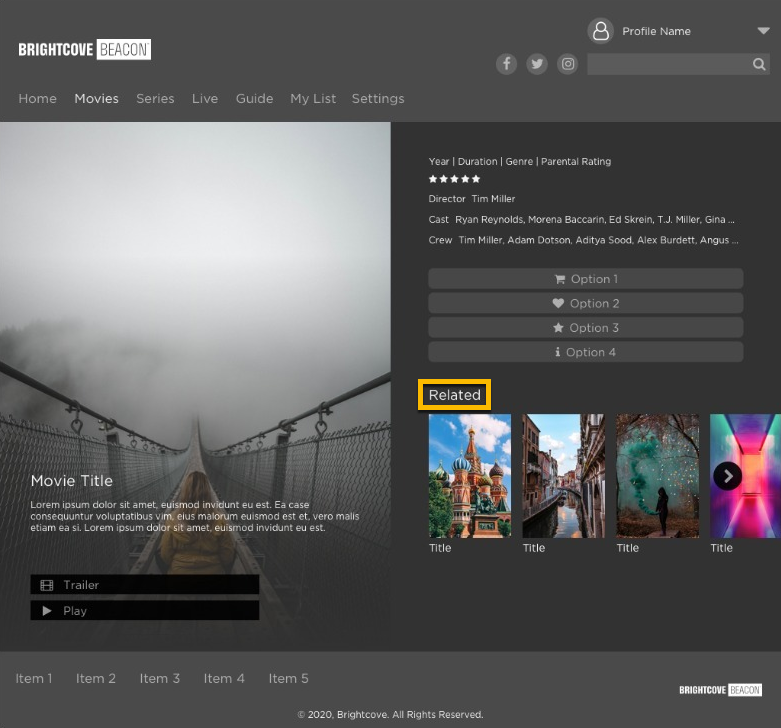 In this document you will learn:
How Beacon determines what content is related to a specific movie, series, live event and player.
Where related content is displayed.
How is related content determined?
The following determines how content can be defined as related:
Only assets of the same asset type can be related. This means only other movies can be related to a movie, only other series can be related to a series, etc.
Within those assets types, the genre defines related. So movies assigned the genre Action will be related content to other movies assigned the genre Action.
If you do not assign a genre, the asset is automatically assigned the genre No Genre. All No Genre assets are defined as related content.
Genres can be defined to create a related content relationship. For instance, perhaps you want movies assigned the Action genre to be related to Adventure movies, and vice versa. This can be done by associating those two different genres as related. Contact customer support to create such a relationship.
Where is related content displayed?
You see related videos displayed in the following locations:
Movie Details pages A, F, G and H (G shown as an example)

Series Details pages

Live Event Details

Player A